Trappings: Pittsburgh
Pittsburgh Port Authority Bus Card Installation, March - April 2005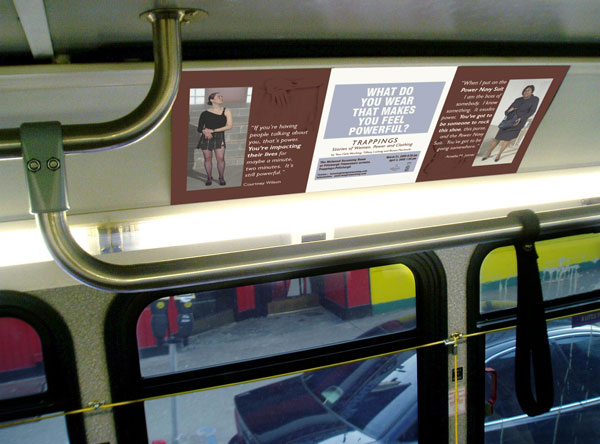 Exhibition Description
Two Girls Working produced eight interview sessions in Pittsburgh between June 2004 – January 2005. In order to share those interview sessions with a larger audience, a two part public presentation titled Trappings: Pittsburgh was developed.

We created a series of prints for the public buses in Pittsburgh that featured photographs and quotes by eight Pittsburgh participants. The Trappings Bus Cards were displayed on the interior of the city's buses March - April 2005. This project received national recognition in the Public Art Network's Year In Review, presented by artist Mary Miss at the Americans for the Arts' 2005 convention in Austin, TX. Mary Miss selected this work as one of the most innovative and exciting works of public art completed in 2005.

The second part of the public installation was the screening of a one-hour film that features diverse and compelling responses by women from Pittsburgh. It was shown at Pittsburgh Filmmaker's Melwood Screening Room on March 31st at and April 3rd, 2005.